Simply put, FIME has the best fire control parts for your AK on the market. It features a 2-stage mil-spec trigger which comes completely assembled so that it delivers easy drop-in construction.
The FIME FCG is Made in the USA.The FIME FCG is available for nearly all AK variant rifles and shotguns and extends the life of your firearm while making it safer to operate.
The FIME FCG will perform flawlessly in combat, competition, training, or while just plinking on the range. While others have attempted to reverse engineer the original fire control parts designed for the AK rifle, only the FIME FCG is built from the original drawings.
FIME's FCG design delivers a shortened trigger travel with a light trigger pull. To assure there are no selector lever misfires, the disconnector's face makes full contact with the hammer to provide a secure lockup.  While not often included with other similar products, the FIME FCG includes the hammer-stop, disconnector spring and sleeve.
The disconnector is engineered with an elongated tail, which makes a full stop on the rear trigger guard rivet, and the hammer stop prevents the hammer from slamming on the trigger.  This combination fully eliminates the transfer of energy commonly referred to as "trigger slap", which is common with inferior products.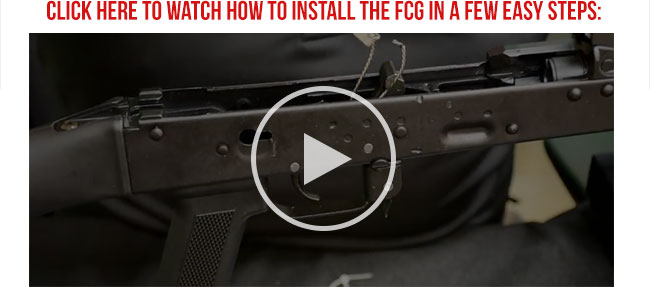 Without making compromises on quality, FIME offers its premium product at an extremely competitive pricing, making the FIME FCG the best value on the market.