The Molot shotguns and rifles are in limited stock due to the U.S. sanctions imposed some time ago. There are already a number of models that are out of stock, and there is no telling how much longer this short barrel shotgun will last.
This semi-auto short barrel shotgun with a folding stock is imported from the Molot factory in Russia. Vepr 12 shotguns are semi-automatic designed for self-defense, hunting, and 3-gun competitions. Based on the RPK standard, the Vepr 12 shares the same legendary characteristics of extreme reliability in harsh conditions as the RPK.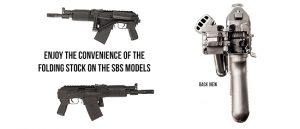 Featuring a factory short barrel, Left-side folding tubular buttstock with cheek rest and sling loop, competition magazine well, one (each) factory 8-round and 5-round magazine included, RPK style windage adjustable rear sight, hinged dust cover with a Picatinny rail, original AK enhanced safety lever (single finger operation), factory chrome lined barrel, chamber, receiver shaft, and gas chamber, factory last round bolt hold open, factory threaded barrel, factory machined bolt assembly, and gas blocks. US factory made parts: polymer lower handguard and upper handguard, pistol grip, trigger, hammer, disconnector, and gas puck.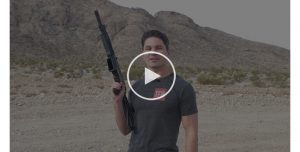 James Reeves from TFBTV had the opportunity to come and shoot the SBS for a video review. Check it out!