American Rifleman — In making the new ReX Zero 1TC Tactical Compact, Arex trimmed the pistol down without lopping off the desirable features of the full-size version. As an optics-ready, milled aluminum framed 9 mm semi-automatic fully tricked out for competition or defensive applications, it's hard to beat this pistol's affordable price. It's another model that has lived up to the high standards one can expect Arex products to meet.
It was two years ago that I first had the opportunity to review an Arex ReX Zero 1 semi-automatic pistol chambered in 9 mm. Manufactured in a state-of-the-art facility by Arex of Slovenia, and imported to the U.S. by The FIME Group, these aluminum-frame pistols have quickly gained a loyal following among American shooting enthusiasts due to their high quality and fair price. The company has been busily introducing new frame colors for the Standard and Compact models, a full-size tactical model, the Alpha race pistol and, most recently, the ReX Zero 1TC Tactical Compact. Here is a closer look at this latest offering.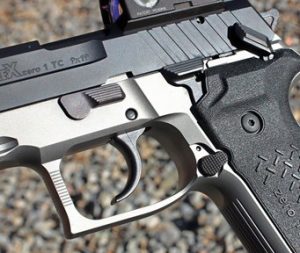 This semi-automatic takes its design cues from the classic SIG Sauer design. The action employs a modified Browning linkless locking system, with a barrel that locks into the ejection port. The milled chrome-moly steel slide features beveled top edges, front and rear cocking serrations and a Nitrocarburized matte-black finish.
Like the Tactical model, the TC arrives with the Rex Optics Ready (ROR) mounting system installed. The top of the slide, in between the ejection port and rear sight, has been milled, drilled, tapped and fitted with a matching filler plate. Removing this plate allows one of the four provided scope bases to be installed. The plate set will support a variety of compact handgun optics including models made by Burris, C-More, Docter, EoTech, Insight, Jpoint, Meopta, Shield, Trijicon and Vortex. The dovetailed metallic 3-dot sight system is noticeably taller than standard sights so as to allow a red dot sight to be co-witnessed with them. Arex also offers night sights for this model.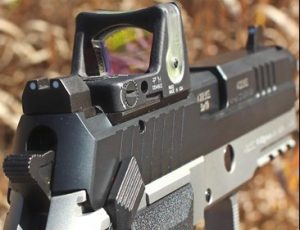 This pistol can be carried with the hammer forward for a longer, heavier double-action trigger pull and the thumb safety engaged. Once the first round in the gun is fired, the trigger switches to single-action mode resulting in a lighter, shorter trigger stroke. Carrying with the hammer forward and the safety off means the pistol still has a heavier trigger pull on the first shot, but one less step to fire. The third option is to go cocked-and-locked with the hammer fully cocked and the safety engaged. This method allows the trigger to be in single-action mode for every shot fired.
Arex makes clean, smooth triggers that are enjoyable to work with. The trigger reset is short with a distinctive, audible and tangible "click." The TC's double-action trigger proved to be just over 12 lbs. (which is over the limit of my digital trigger gauge) making it about three ounces heavier than the Tactical model I worked with previously. However, the single-action trigger broke at 5 lbs. even, making it 5 ozs. lighter than the Tactical. Given a choice, I'll go with the slightly lighter single-action mode.
Specifications:
U.S. Importer: FIME Group
Manufacturer: Arex of Slovenia
Model: ReX Zero 1TC Tactical Compact (REXZERO1TCGG)
Action: Semi-Automatic, Modified Browning Linkless Locking System
Caliber: 9 mm Luger (9×19 mm), Approved for SAAMI Specification +P Loads
Trigger System: Single- and Double-Action, Hammer Fired
Slide: Rex Optics Ready (ROR), Nitrocarburized Milled Steel Barstock
Optical Mounts: 1-Trijicon; 2-C-More; 3-Shield/Jpoint; 4-Eotech/Vortex/Burris/Docter/Insight/Meopta
Barrel: Single-Piece Cold-Hammer-Forged Barstock, Nitrocarburized Finish
Muzzle: Threaded with Thread Protector, ½ x 28 TPI
Frame: Milled T7075 Aluminum, Hard Anodized with Steel Locking Block
Frame Color: Gunsmoke Grey (GG)
Dust Cover: Full Length with Integral 1.5″ Accessory Rail
Grip Panels: Slim Profile Textured Black Polymer
Sights: Dovetailed Metallic 3-Dot, Tall Profile
Thumb Safety: Ambidextrous
Barrel Length: 4.5″
Overall Length: 7.8″
Height: 5.4″
Slide Width: 1″
Weight: 31.2 oz. with Empty 15-Round Magazine
Single-Action Trigger Pull: Over 12 lbs. (as tested)
Double-Action Trigger Pull: 5 lbs. (as tested)
Capacity: 15+1 or 17+1 Rounds
Twist: 1:9.8" RH
Rifle Grooves: 6
Accessories: Two Magazines, Four ROR Optical Mount Plates, Hard Case, Lock, Owner's Manual
MSRP: $869.99
Optic: Trijicon RMR Dual-Illuminated Sight ( RM05), 9.0 MOA Amber Dot: $577
For full article click here.