Shooting Illustrated — Last week, I had the pleasure of attending the launch of the new Arex Rex Delta at an event in Slovenia. The young company's latest offering is drastically different from its previous line of metal-frame DA/SA pistols but promises similar quality as we've come to expect from the Rex Zero 1 and Rex Alpha imported by FIME Group.
The new Rex Delta is a polymer-frame, striker-fired handgun chambered in 9 mm and designed for concealed carry. Yes, that's what everyone else is making these days, but there's a good reason for that: sales. This type of pistol is what the market wants. Arex is seeking to claim its own space in this heavily saturated segment, and rightfully so. Based on my experience in Slovenia, the company will carve out its own niche quite nicely.
Not only does the Arex Rex Delta sport features we're used to seeing on a polymer-frame 9 mm, it earns some bonus points for its steel sights and perfect grip texturing. It also sports four interchangeable backstraps for sizing adjustments and fully ambidextrous controls (mag-release button and slide-stop). But the most interesting part of this pistol is its trigger. The polymer trigger sports the ubiquitous blade safety, which isn't all that interesting. Rather, its pull is unlike most on the market.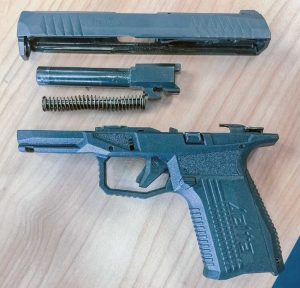 The best way I can describe it is like a two-stage trigger, which is common on rifles, but not so much on handguns. A somewhat long, somewhat heavy initial pull reaches a stopping point, after which the shot breaks quickly, cleanly and with only a small amount of additional effort. Its reset is the best I've felt on any striker-fired handgun, ever—short, audible, tactile and did I mention short? Quite simply, the Rex Delta is ideal for those who shoot to and from reset.
The Arex Rex Delta will have an attractive MSRP of $449, and the first production units are scheduled to arrive in the U.S. in December 2018. We'll have a complete review of this exciting new addition to the concealed-carry handgun market as soon as we get one of those production models in for testing. Based upon my first impressions, it's definitely a pistol worth checking out.
For full article click here.