Skip to content
Rex Zero 1 Tactical FDE
The most sought after pistol in the world, Rex Zero 1, 9mm Pistol by Arex is available in the US exclusively through FIME Group, LLC. The Rex Zero 1 pistol complies with strict military standards for reliability and has passed extreme temperature, hostile environment, and drop tests. The expected service life for the pistol exceeds 30,000 rounds.
Specs
Modified Browning linkless locking system
Single and Double-action, Hammer Fired
| SKU | MSRP | MAGS INCLUDED |
| --- | --- | --- |
| REXZERO1T-03 | $869.99 | (2) 20rd Mag |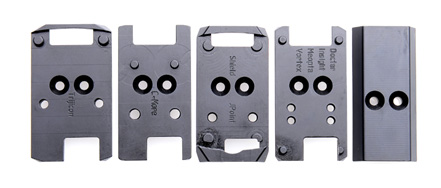 Four plates for optics attachment included.
Product Description
In partnership with FIME Group of Las Vegas, NV, Arex is emerging into the US market with its highly acclaimed Rex Zero 1 pistol line. Having a dedicated, creative, and experienced team and a vision for excellence, Arex is determined to become one of the staples in the sport, tactical shooting, and self-defense markets, as well as a trusted brand name for military and law enforcement agencies around the world.
Arex CNC machining capabilities and quality controls are quite evident in this video tour of the plant.
The Rex Zero 1T (Tactical) pistol complies with strict military standards for reliability and has passed extreme temperature, hostile environment, and drop tests. Limited Lifetime Warranty for the original retail (commercial/civilian) purchaser, one year for law enforcement and military customers. Warranty and service by FIME Group LLC. Ships with (2) 20-round mags, (4) Plates for optics mounting, Hard Polymer Case, Cable Padlock, Operating Manual.
The Rex Zero 1T pistol continues the excellence in production, quality, and value that Arex of Slovenia has become known for since the introduction of the Rex Zero 1 to the US in 2016 with FIME Group, LLC as the official importer. The Tactical model has more options than ever before in the Rex Zero series of pistols, including the new ROR (Rex Optics Ready) platform. Adding on to the proven quality and craftsmanship of the basic features, the Tactical model now offers the following enhancements to increase shooter experience and customization ability. The Rex Zero 1 Standard Model offered is a 20-round, 4.9" barreled 9mm pistol with several unique features:
Threaded barrel (with protector) 1/2"x28
20 rd. mags
Raised sights
ROR (Rex Optics Ready) - 4 plates for optics attachment

(1) Trijicon
(2) C-More
(3) Shield/Jpoint
(4) Eotech/Vortex/Burris/Docter/Insight/Meopta

Can be operated either "cocked & locked" or safely de-cocked for DA/SA operation. External safety operates in either configuration.
Ambi- safety and magazine release.
The slide-stop also serves as the de-cocker.
Hard anodized T7075 aluminum frame made from solid bar stock with steel locking block insert.
Nitrocarburized steel slide made from solid bar stock.
Forward cocking serrations.
1 piece cold hammer forged barrel made from solid bar stock and Nitrocarburized.
Loaded chamber indicator.
Full length slide rails.
Picatinny railed dust cover.
Large trigger guard for use with gloves.
High profile white dot steel sights. Accepts replacement sights.
Approved for all commercial SAAMI specification +P ammunition.